BUY THE BEST FONTS FOR FASHION MAGAZINES
ENJOY CUTTING-EDGE FONTS DESIGNED PRIMARILY FOR FASHION MAGAZINES, LUXURY LOGOS, AND HIGH-END BRANDS
BUY THE BEST FONTS FOR FASHION MAGAZINES
ENJOY CUTTING-EDGE FONTS DESIGNED PRIMARILY FOR FASHION MAGAZINES, LUXURY LOGOS, AND HIGH-END BRANDS
New York Fashion Ampersand
Learn about Vogue magazine font choices, and see example of the world high-end typefaces.
A beautiful ampersand's curves and swoops add delight to many a fashion logo. Let's face it: if a piece of type can be called sexy, the ampersand wears the winner's sash and crown and carries the giant bouquet of long-stemmed red roses. For some companies, the ampersand itself is enough to make a statement—using this versatile character in packaging or in fashion brand logos highlights the brand's luxurious qualities and adds instant value to the product.
New York typographer Moshik Nadav has a special affinity for drawing sexy ampersands, making his custom type designs perfect for use in fashion brand fonts and logos. Its playful shape inspires him to explore endless opportunities for reinvention and variation.
His ampersands, inspired by experimental fashion typography, extend far beyond the one he designed for Lou & Grey (more on those later on in this article!). These examples below are from Nadav's latest Lingerie Wild Pro Typeface. Lingerie Wild Pro Typeface comes with thousands of unique glyphs and 4 styles. Learn more Lingerie Wild Pro and get it here

Effective fashion typography, for publications as well as for retail environments, can be a delicate balancing act. Fashion magazine fonts for luxury publications still tend to follow the parameters set up by the legendary art director Alexey Brodovich for Harper's Bazaar in 1934, drawing upon elegant high-contrast Modern faces such as Bodoni or Didot for serif options. A rougher street-influenced style of typography for fashion publications relies upon the immediacy of handwriting and graffiti, and targets a younger audience with less money to spend on clothes and more interest in wearing what's newest, not what's most haute couture and exclusive.

Fashion fonts need to walk the fine line between having a distinctive style of their own and possessing a quiet subtlety of form that allows the clothing to take front and center stage, no matter what audience they seek to reach. When creating sexy logos for fashion brands, designers seek out display fonts with personality that can deliver the brand narrative without overshadowing the clothing, and that aren't too plain or dull by themselves.

For font foundries, developing new characters that will become instantly identified with a fashion logo—for example, A.M. Cassandre's 1963 logo for Yves St. Laurent—remains a satisfying creative challenge. A sexy ampersand can fill this role with ease. The gracefully intersecting strokes of an ampersand, with their wide contrast from thick to thin, allow a fashion ampersand design to bring instant glamour to a fashion logo. Mixing up a custom ampersand with existing sans serif or serif fonts is a sophisticated approach for generating a brand identity that will stand out in a crowded field.

Lou & Grey, an Ann Taylor LOFT lifewear fashion brand, uses an overscaled ampersand by Moshik Nadav to make an assertive brand statement. The custom character he created for this client has an effortless grace reminiscent of a butterfly's wing. Its elongated ball terminals have a similar organic quality, resembling the creature's delicate antennae. The two simple names of the client are rendered in an understated sans serif type joined by a dramatic ampersand that the brand deploys throughout the retail environment to great effect.

The outside of a Lou & Grey store immediately embraces and beckons shoppers with its strong identity. The repeated ampersand on the window at left, scaled up to a dizzying size, gives this window display treatment much of its impact.

Moshik Nadav in front of Lou & Grey in Times Square

Once inside, a shopper sees Nadav's ampersand painted on the wall at an even grander scale, and rendered in neon as well, lending unique flair to the retail environment. Sexy clothes deserve sexy fonts! The ampersand is everywhere a consumer wanders in the store, subtly reinforcing the brand even when it stays in the background as part of the wall decor.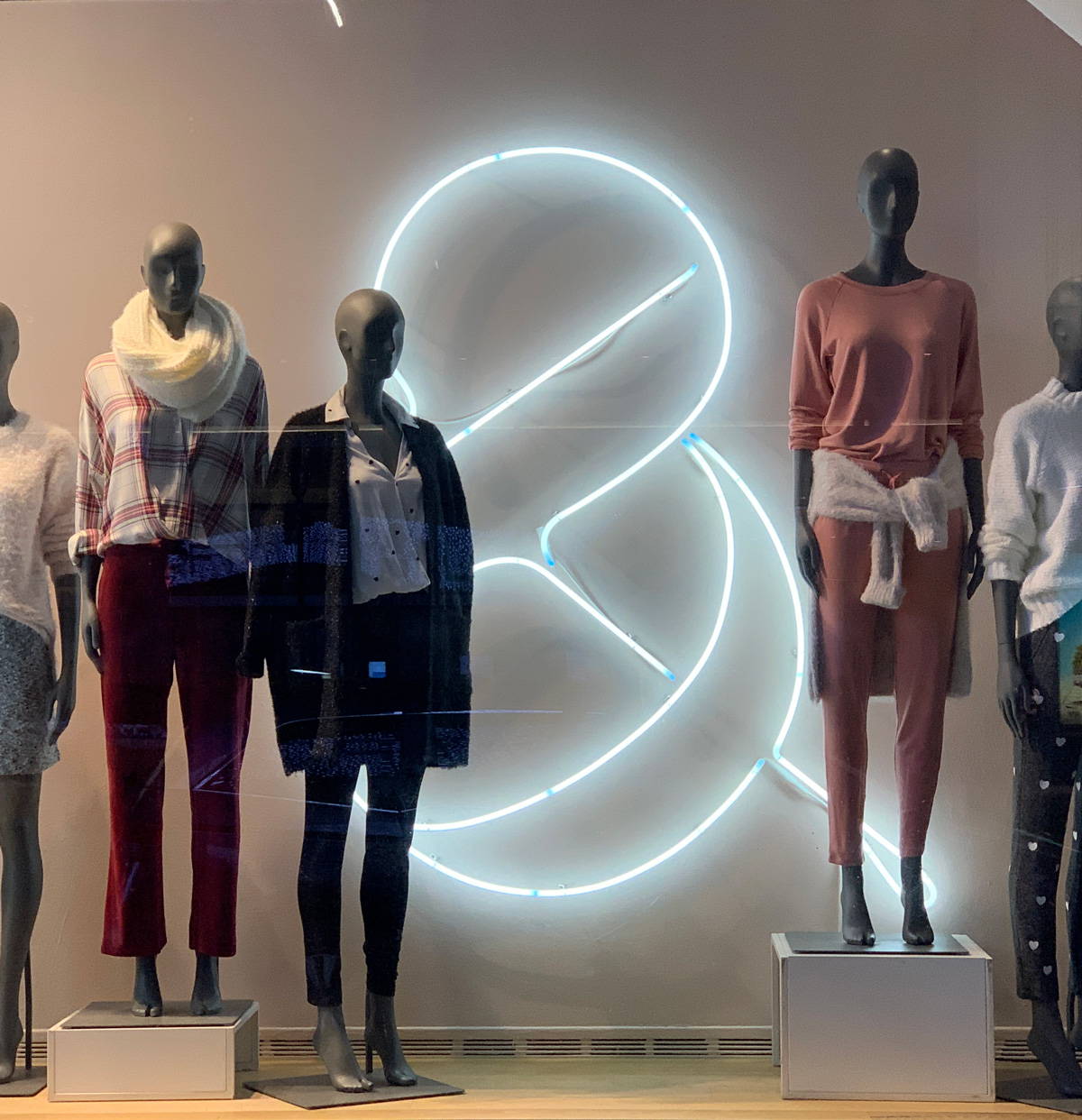 Lou and Grey Neon ampersand in Times Square New York shop.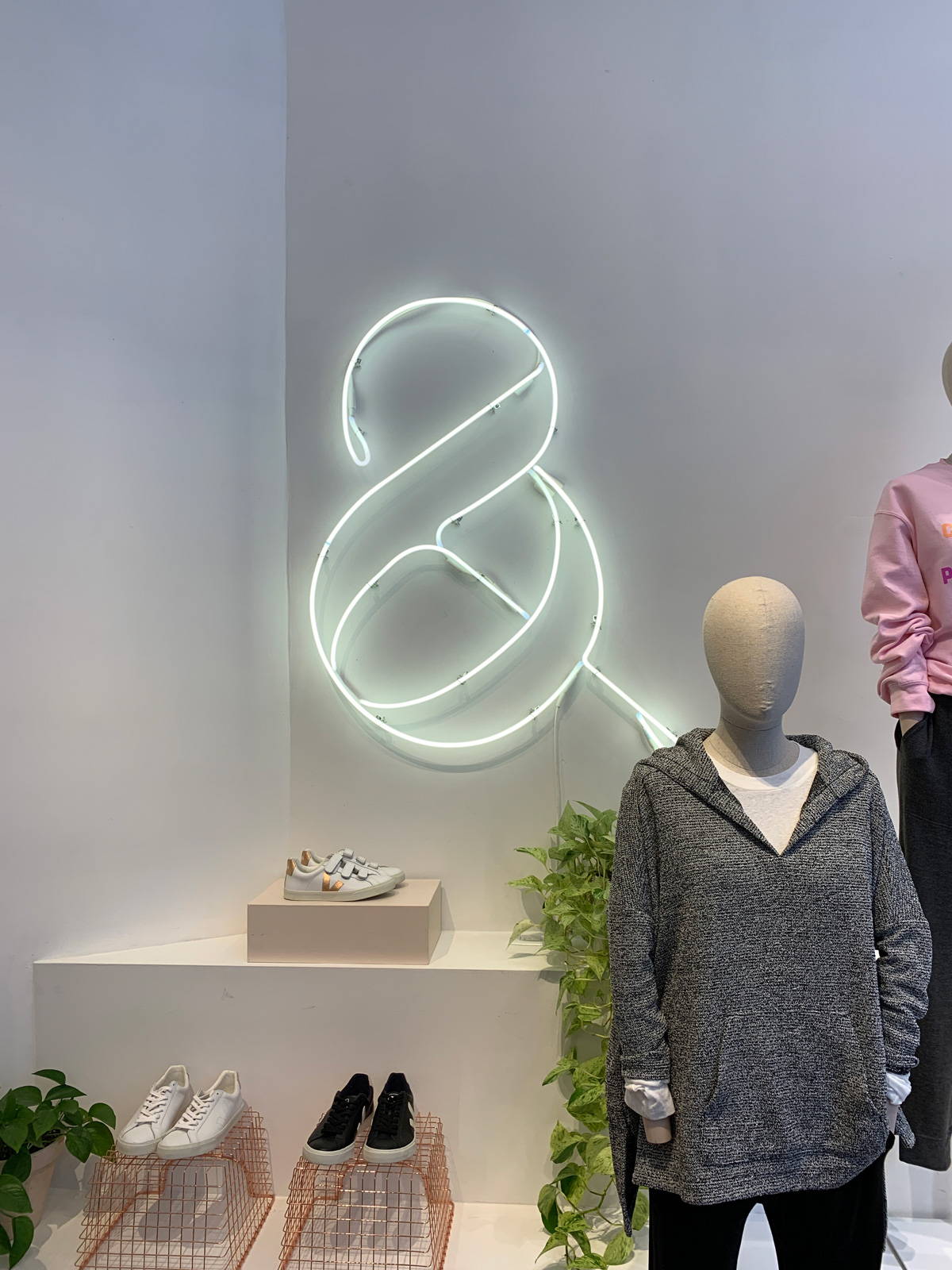 Lou and Grey Neon ampersand on the 5th Avenue, New York shop.
Apart from its typographic versatility, the ampersand's balance of dynamic curves and sharp angles easily lends itself to stunning, wearable fashion accessories. With that in mind, Nadav created a unisex jewelry collection of limited edition necklaces based on his type designs, naturally including ampersands.

As one of the Latin alphabet's most delightfully quirky characters, the ampersand's versatile form allows type designers such as Moshik Nadav an opportunity to create variation upon variation without ever growing bored. For graphic designers who work with fashion and luxury brands, a sexy ampersand goes a long way in creating a unique brand voice for the client.
Moshik Nadav Typography's selection of exclusive ampersands will add instant energy to design projects, from print and web designs to environmental displays for fashion and luxury clients. For a custom ampersand design, feel free to ask for a quote.

ENJOY CUTTING-EDGE FONTS DESIGNED PRIMARILY FOR FASHION MAGAZINES, LUXURY LOGOS, AND HIGH-END BRANDS
BUY THE BEST FONTS FOR FASHION MAGAZINES
ENJOY CUTTING-EDGE FONTS DESIGNED PRIMARILY FOR FASHION MAGAZINES, LUXURY LOGOS, AND HIGH-END BRANDS